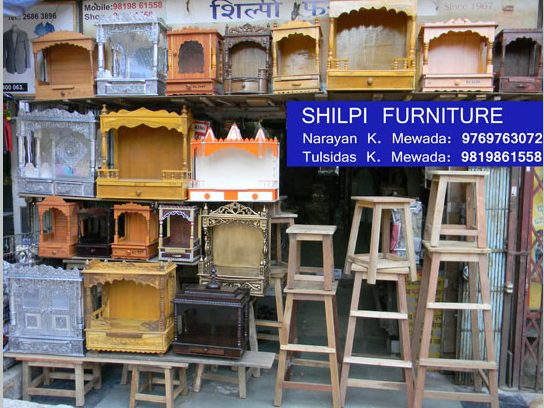 We are situated in Goregaon(East) , Mumbai since 1967. We offer the best interior design and wooden works with best workmanship and quality craftsmanship.
WE SPECIALIZE IN:
Intricate Temples in 100% Teakwood and Rosewood with 10 years of guarantee.

We also have temples with different materials such as Aluminium / Copper / German Silver / Brass Paved and Plywood, Sunmica and Veneer.

We also have variety of temples that are Folding and Easy to Assemble.

All kinds of wooden furniture for office and household use as per ORDER.

Readymade Utility Furniture:

WOODEN Stool joined using Fevicol with 1 year warranty.

CHAURANGs (Chowki/Bajoth).

POOJA PATLA.
WE ACCEPT:
PayTM / UPI / Bank Transfer / CASH